Custom Optics Manufacture vs Catalogue Optics
Published: August 12, 2022
Custom optics manufacture means the production of optical components, such as lenses, prisms, mirrors, etc. according to customer specifications, technical or application guidelines or other specific requirements.
Catalogue optics or off-the-shelf optics, compared to custom optics, are products that are purchased with predefined characteristics, where the customer shall take into consideration the specifications provided by the supplier.
We at Solaris Optics receive many inquiries regarding catalogue cards of products we manufacture. Such questions typically open the discussion about technical capabilities, however we realised that it is needed to explain the main differences between a catalogue supplier and a custom optics manufacturer. Hence we drafted an article to explain in more detail what to expect and what not to expect from a custom optics manufacturer. The contents have a form of discussion of the main advantages and disadvantages of catalogue and custom optics suppliers.
Custom optics manufacture – pros & cons
Both custom optics producers as well as catalogue optics suppliers complement each other and are successfully operating on the market. Some of the most known catalogue optics suppliers include e.g. Edmund Optics or Thorlabs, whereas a good example of a custom optics manufacturer is Solaris Optics.
Video presenting overview of Solaris Optics manufacturing steps and processes: Continue reading below the video.

There are several good reasons to order optics from a producer of bespoke optics. The main advantages
include:
More flexibility when it comes to specifications – typically within its range of technical capabilities a custom optics manufacturer is flexible when it comes to its offered products, hence any inquiry within the manufacturing limits is a usual client case. Naturally one can never say that there are no limits when it comes to available specifications from a custom optics manufacturer. Any optics producer has its technical manufacturing limits which set the boundaries of what can be practically done – what materials and shapes can be processed, what thin film coatings can be deposited and what shapes, dimensions and surfaces can be measured.
Own manufacturing facilities – typically a custom optics manufacturer is distinguished with its own production space, where the ordered products are manufactured; this allows clients to personally verify the production standards whenever needed, but also allows the manufacturer to adjust certain production standards for a given client when needed. This becomes especially relevant in the changing supplier paradigm, where the manufacturing is expected to be local or near as opposed to distant and price-prioritised.
Economic competitiveness with increasing volumes – with lower volumes devoted optics producers are not able to compete against catalogue suppliers with a price. However, with larger volumes the cost structure of production and sales gets advantageous for optical components manufacturers; no intermediaries, as well as organisations, focused on production rather than sales & marketing allow the custom optics manufacturers to be fully competitive with price versus catalogue products.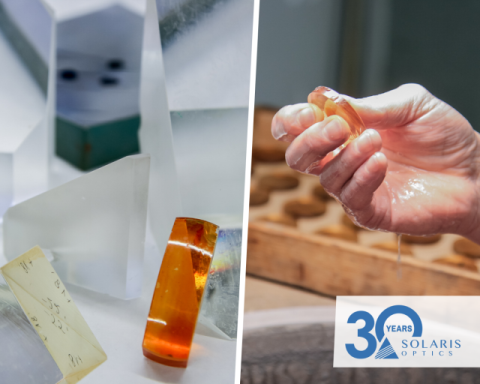 Figure 1 Custom optics manufacture at Solaris Optics
The business characteristics of a custom optics producer brings, however, certain features, which can be seen as disadvantageous:
Longer lead times – the necessity to process the inquiry, plan production, order substrates, manufacture and measure, makes it impossible for a custom optics producer to match the delivery times of catalogued products.
Limited possibility to manufacture small volumes – some custom optics manufacturers may find it difficult to execute small orders, such as 1, 5 or 10 pieces; such orders are usually a domain of off-the-shelf suppliers, as long as the predefined specs are suitable.
For small volumes higher production costs – with new product manufacture there are several costs to bear, e.g. design and purchase of product-specific tools for glass processing; when the volume is small, the production may come up uneconomical.
Catalogue optics – pros & cons
The advantages and disadvantages of catalogue optics as compared to custom optics are naturally mirroring each other.
Main advantages of catalogue optics:
Typically short lead time – usually the catalogue parts are available in stock, ready to send, so it is possible to get the needed parts within e.g. 3-4 days.
The possibility to order a single piece, but also larger volumes – the critical factor is oftentimes the possibility to order small amounts, e.g. 1, 5, 10 pieces, which is either not possible or costly from custom optics manufacturers; for higher volumes the situation may be a bit more complicated, as it may require production re-planning, so similar activities as typical custom optics manufacturers do
Competitive price, especially at low volumes – while it takes several preparation steps to plan and execute a production process for a given component, for catalogue suppliers, all those steps are not necessary.
Nevertheless, some disadvantages of catalogue optics vendors include:
Limited specifications – it is possible to utilise the above-mentioned advantages as long as the product design assumptions can be adjusted to the already existing predefined specs in the supplier offer; this means component selection with optics catalogue and compromising on e.g. dimensions, spectral characteristics of the optical element or on the entire product final size and performance. Usually, catalogue optics suppliers try to adapt their warehouse offer to the most common market requirements, but this is not always possible.
Unknown manufacturer – in many cases a catalogue optics supplier is actually a company that organises supplies and arranges sales, but is not a manufacturer itself; hence it has limited possibilities, or at least a longer way, to adjust the production to some specific requirements; this is oftentimes relevant when a customer seeks to place a larger order.
Limited price competitiveness at larger volumes – with larger volumes the price advantage of catalogue suppliers starts to disappear, and the price can be higher as compared to an offer from a custom optics manufacturer.
Limited flexibility – certain clients are interested to adjust not only the production process but also certain supplier operations standards; for a catalogue supplier, this may be either impossible or difficult to adhere to.
Custom optics or catalogue optics
Given the above brief analysis, there are several conclusions that can be drawn.
It is clear that as long as the developed optical product is of low volume or in the prototyping phase – it is economically advantageous to select a catalogue supplier for minimum costs and quick delivery. When the needed product is of higher volumes then it is good to ask for offers also from custom optics producers. For high-volume products, where the specs are beyond catalogue-available specifications it is likely that devoted optics suppliers will provide you with better offers and more flexibility than off-the-shelf suppliers.
While the above conclusions are in a majority of cases true, there are also other cases, where the answer is not obvious and the supplier selection will be case-specific. For instance, an order for 50-100 components can be economic from both a catalogue and a custom optics supplier. Perhaps in the most challenging situation are scientists or product developers who develop products which cannot accept compromises on optics specs. In such a case a custom optics supplier which: A – has the needed capabilities and B – has a suitable business situation to handle the inquiry shall be sought.
In the above article, we tried to explain the main differences between the two business models: catalogue supply and custom manufacture, looking from a customer perspective. We trust that with the time spent on reading the publication you will now save time on optics supplier or manufacturer selection. Should your choice be a custom optics manufacturer, kindly please consider Solaris Optics.
Solaris Optics is a custom optics manufacturer, based near Warsaw in Poland. We are happy to answer your questions!
Please follow us also on Linkedin, Facebook and Youtube!
***